Having a great sound system is a requirement for a good car ride. Unfortunately, most vehicles come with a fairly standard sound system. To achieve high-quality sound you need custom tweeters.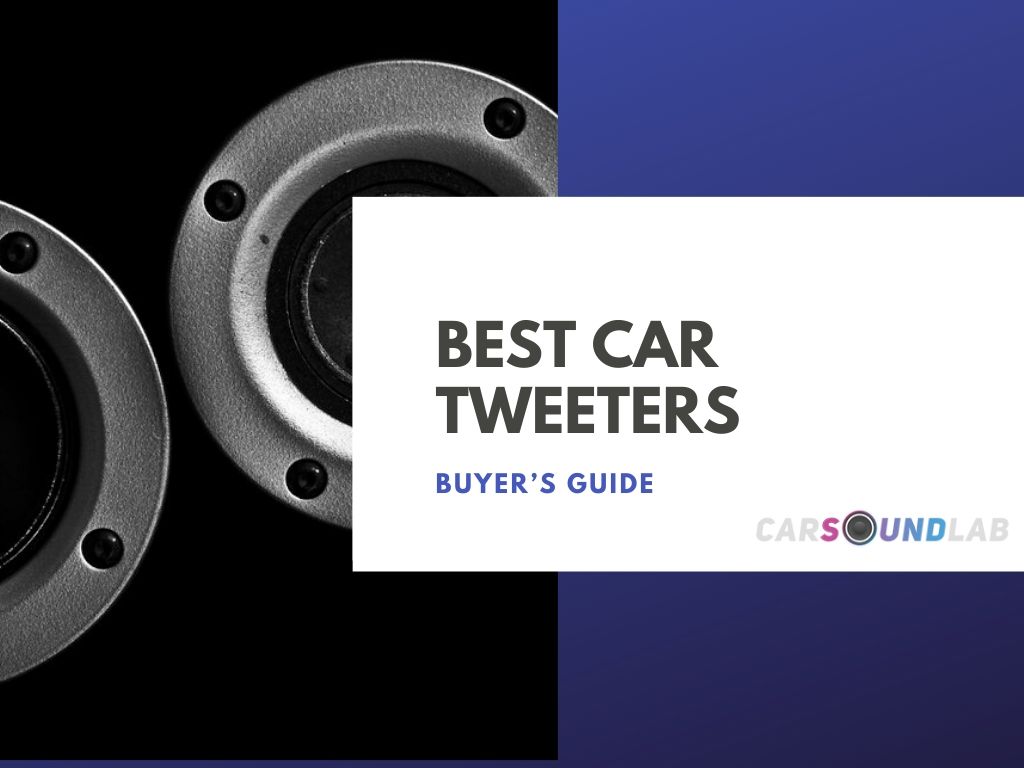 Think of your favorite song for a moment, can you hear it? If you listen closely next time, you might be able to differentiate the pieces of the music as it plays. Low tones are created by a woofer and higher-pitched sounds come from a tweeter. 
Car audio systems come with two basic elements: tweeters and woofers. The tweeters are most often located on the door panel of your vehicle, which isn't the best placement for quality sound. This is one big reason people install their own tweeters in a more prominent place.
Cannot find required Table
Tweeters are one of the most important additions to improve sound quality in your car. This comprehensive guide will tell you everything you need to know about buying a tweeter for your car's sound system. 
10 Best Selling Car Tweeters
Building a sound system that packs a punch is not an easy task. Luckily, we have compiled a list of the ten best-selling car tweeters and written an honest review of each of them. All of these tweeters are best-sellers for a reason, but not all of them are right for you! 
The Infinity Edge tweeters are an excellent upgrade from a standard car stereo system. These tweeters are easy to install and require no additional purchase of a bass blocker because they have a built-in crossover. They are built of standard silk dome material and are by far the best we've seen. These dome tweeters are far more powerful than any original sound system and have lots of excellent reviews from users. 
Infinity REF-275tx are built from good-quality but standard materials with noticeably larger magnets, and better cones than factory vehicle dome tweeters. These can be installed at home without professional help. They are an excellent choice to replace the subpar tweeters in your vehicle. 
Rockford Fosgate delivers a powerful sound with this one-inch car tweeter kit. These dome tweeters are a traditional build with a natural sound that will improve your existing sound system. They can mount flush with the car so that it looks like a professional installed them. Further, these powerful tweeters are packed with a high-pass crossover system and come with a one-year warranty.
Rockford Fosgate P1T-S are a great quality product, a definite upgrade from standard vehicle door tweeters, and are easy to install. 
Alpine dome tweeters are built from common materials but pack a bright and crisp sound. The package comes with everything you may need from foam to fit the tweeter into its space and extra wiring. These also come with an external crossover filter for tweeter protection. 
Quite a few reviews suggest it takes time to adjust the sound to your liking. This is true for any tweeters, but it is something to keep in mind as these are not really plug and play tweeters
JBL premium tweeters are less than an inch in size and built of carbon-composite, non-magnetic frames that can withstand the life of your vehicle. These are soft-dome tweeters which means the sound may be a bit harsher than your average car sound system. However, these tweeters are the perfect size to install anywhere in your car. JBL also provides a one-year warranty in the event that anything goes wrong. 
JBL has a great reputation for building quality products. The fact that these small tweeters can outperform the standard vehicle sound says a lot about their quality. Be sure that you have somewhere in mind to install these powerful .75 inch tweeters. 
JBL builds high-quality sound stereo equipment at a variety of price points. This is an edge-driven PEI tweeter which produces a crisp, clear, high-quality sound. Built for self-installation, these tweeters allow you to make tweeter placement a priority in your vehicle.
These tweeters are definitely better quality than JBL's standard premium tweeters and they pack a punch that can rival many other brands. JBL CLUB750T tweeters are a great choice for someone looking for quality sound. 
This Rockford Fosgate dome tweeter kit allows for versatile installation which is extremely handy when altering the configuration of your sound system. These one-inch tweeters can be mounted flush with your car wall, or even angled to provide better sound quality. They can be connected directly to your existing system as they include high-power crossover. Overall, these are an excellent and inexpensive choice to upgrade your sound system.
This system is a great choice for someone looking to install tweeters in a strange place. They are easy to install anywhere in your vehicle such as the dash, headrests, or upper panel of the door. 
If you are looking for power, then this bullet tweeter is an excellent choice. Sound quality is decent for the epic volume this tweeter can provide. Further, they are designed with an appealing sleek, red stripe. These tweeters might be small, but they are loud!
The horn tweeter is known for its ability to make a loud noise. However, you are probably going to sacrifice a little sound quality if you choose a horn tweeter over a dome tweeter. This is not necessarily a bad thing, but it is important to note. If you are looking for a loud tweeter that will wake your neighbors, then this is the one for you. 
The aluminum frame of this high-power super tweeter produces a crisp, clear, high pitched sound at an impressive volume. This is a professional-grade, classic looking tweeter has 1950s style combined with modern technology. The super tweeter is designed to make a really loud noise, so be prepared for some ear damage if you crank these bad boys up too loud. The DS18 is an excellent choice if you are looking for a loud tweeter without losing a crisp sound.
Super tweeters are for people looking to make a lot of noise and not necessarily a pure high-quality sound. For the average ear, a super tweeter is not going to sound any less high-quality than a dome tweeter. Only the most experienced ears will be able to tell the difference. Just be sure to keep your priorities in mind before you decide to make your purchase. 
Boss Audio Systems provides a three-year warranty which says a lot about their faith in the product. These one-inch dome tweeters are easy to install and sound better than a standard car audio tweeter. However, they may need to be modified to fit into a standard slot, but they are not hard to maneuver. The Boss Audio System tweeters come with high-power built-in crossover.
These tweeters are a fairly standard tweeter for the average person looking to replace their tweeters. The particularare an excellent choice for the first time tweeter purchase. There is no need to break the bank until you decide what audio sound you are going for. BOSS TW15 are durable and reputable even at a lower price point. 
Power Acoustik tweeters really live up to their name! These magnetic tweeters produce an incredibly loud sound. They have a built-in crossover so there is no additional fuss with the installation. These little tweeters have overwhelmingly positive reviews and are a great price for what you get. 
Last  does not mean least in this case. The power acoustik is a great choice for someone looking to start experimenting with car audio equipment. This is one of the lowest price points with the biggest value you can find on the market!
Best Car Tweeters Buyer's Guide
Use the guide to steer yourself in the right direction as you begin to looking into a tweeter for your car. 
Different types of tweeters are made from different materials, but most dome tweeters are either made using a fabric material (like silk) or a metal material (like aluminum). Most people prefer the sound of either a soft dome tweeter or a metal dome tweeter. You may have to visit a music or electronics store to determine which sound you prefer.
A dome tweeter made from fabric is referred to as a soft dome tweeter. These tweeters are usually made from silk or textile. These are the most readily available tweeters as they are an affordable option but still maintain sound quality and durability.
Cheap plastics or metal covered plastics are another material to be on the look-out for. These materials are typical in the more cost-effective tweeters. While they do not necessarily produce a lower quality sound, they may be more fragile to install. 
The materials in a tweeter are largely going to affect its cost. However, if you are a first-time buyer you may be inclined to make a smaller purchase in order to try out different sounds. Buying a less expensive tweeter does not always mean a sacrifice in sound quality. In fact, many of our reviewed tweeters are less expensive and pack a great sound. Don't let a low price make you worry about the sound the quality as many low-cost tweeters will still sound better than factory-produced tweeters.
That said, some tweeters can get extremely expensive. Our list is not for the professional looking to spend a small fortune. This list is for the average spender. You do not have to spend a fortune to purchase a high-quality tweeter for your vehicle. Several of the mid-priced options included above are the highest quality tweeter for the average audio enthusiast.
To determine which type of tweeter you need, first consider what you are looking for. If you are looking for a high-quality sound, then you probably want to stick with a dome tweeter. However, if you want to make a lot of noise, consider a horn tweeter or a super tweeter instead.
Remember, super tweeters and horn tweeters can get super loud. However, they tend to have noticeably less sound quality when compared to dome tweeters. Some car enthusiasts are into making noise, so if you want to make a loud statement, definitely look into the super tweeter or the horn tweeter over the dome tweeter. 
A ribbon tweeter is far less common than the others. A ribbon tweeter produces a pure sound, but its uniqueness will be a big draw for the audio enthusiast. If you want to stand out, then you think about a ribbon tweeter over a dome or super tweeter.
There are a lot of different types of car tweeters, but they all serve the same basic function. Tweeters provide the treble sound you hear in your music, without a tweeter all you have is bass. Each type of tweeter is built of different materials with different priorities.
Silk Dome Tweeters
These are the most common tweeters on the market today. These tweeters can be made from low cost, mid-cost, and upper-cost materials making them available at various price points. 
Piezo Tweeters and Horn Tweeters
Piezo tweeters and horn tweeters produce larger, louder sounds than a common tweeter, but their sound quality is usually not as good.
Super Tweeters
Super tweeters are built just exactly like a standard dome tweeter, but they are created to make a much more powerful noise. 
Ribbon Tweeters
Ribbon tweeters are unique in their shape and material. As the name suggests, ribbon tweeters utilize a ribbon material to create a high-quality sound. 
Location
People typically purchase a tweeter because their current audio system is nothing special. This is largely because the tweeter placement is less than ideal in most vehicles. Considering where you plan to put your tweeter can help you determine which tweeter you to purchase. Some tweeters are more visually appealing than others and this is a huge factor to consider if you are installing your tweeter on a dashboard or further up on the door.
Installation
Be sure to read about other customer's installation experiences, especially if you intend to install your own tweeters. 
Tweeter Impedance Rating
This is going to get a little bit technical. Impedance is the word that describes the electrical resistance to current within a speaker. This is rated in Ohms. Inside your tweeter is a voice coil that has a resistance. This resistance is what determines the speaker's impedance rating. 
It's important to make sure that your speaker and your woofers impedance rating is a match. Further, crossovers are created for certain impedance ratings, which is why most tweeters come already equipped with a crossover. Using a different crossover can cause damage if it is not designed for your tweeter's impedance rating. 
Tweeter Power Rating
Most tweeters cannot handle huge amounts of power like large or expensive speakers can. It is realistic to expect 15W-30W for an average car tweeter. 
Frequently Asked Questions
Why do people need to purchase a tweeter?
You don't need a special tweeter to hear your music. However, if you want to hear audio in the most authentic, natural manner, then you want a tweeter to transmit those higher-pitched sounds. 
Why are tweeters so small? 
Tweeters don't need to be big. They produce a high-frequency sound which requires a small-sized technology. If you look at a speaker that comes with a sound system, the small circle is the tweeter and the bigger circle is the woofer. 
How do I know which tweeter I need? 
You will need to look at a couple of different factors to determine which tweeter is best for your situation. You also need to make sure the impendent rating matches any woofers you want to use. You also need to consider if noise or quality is your priority. 
Why do tweeters need a crossover?
Tweeters cannot produce bass sounds. Because of this, they require the use of a crossover to protect them from damage. A crossover filters lower frequency sounds so that the tweeter is not damaged when playing music. 
Do I need to purchase crossovers? 
Most tweeters will come with a built-in crossover, but be sure to read closely! If you try to install a tweeter without a crossover, you may damage your brand-new tweeter. 
Final Thoughts
Whatever your reasons for upgrading your car tweeter, this guide can help you make an informed decision. Whatever you choose, a tweeter is a great addition to any sound experience. Our recomendation is Infinity REF-275tx which give you the excelent sound for the price.