Whether you own a truck, a Toyota, a Honda, or a Mercedes, a double din head unit has become a must-have for everyone who needs entertainment during their car rides.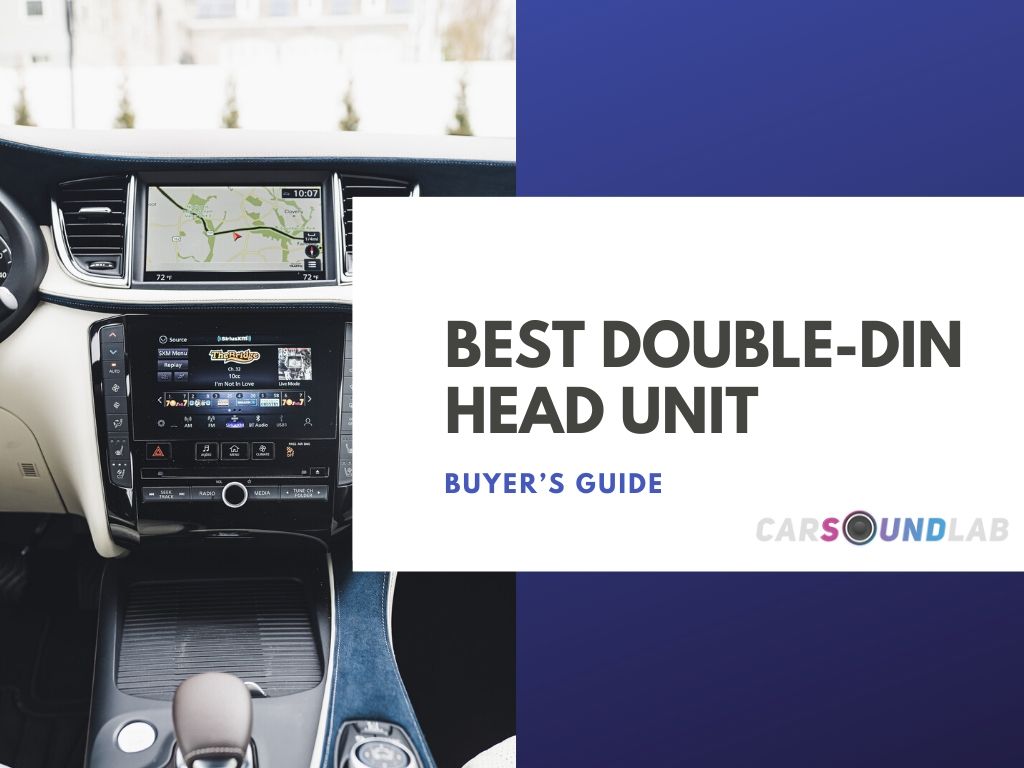 With advancing technology and increasing use of smart software such as iOS and Android, double din head units are also evolving. The following article will help you in picking the best double-din head unit for your car for the best sound quality. Our buying guide will help you to make an informed decision.
Top 5 Double Din Car Stereos – Comparison Table
Features
This double din head unit is manufactured by Pioneer, a top-tier brand. The unit is one of the finest in terms of its versatile compatibility and performance quality. There are some high-end dins that do not offer compatibility with all types of smart devices. However, this product has versatile compatibility with both Android Auto and Apple CarPlay. You will be further impressed by the Voice Control feature that makes this a technologically advanced double din for any car. The navigation feature of this unit is another notable thing about it.
The system lets you connect your phone, either wirelessly or with cables, allowing you ease of use and freedom to choose how you want to use the unit. It is equipped with WebLink capability that links with Alexa to provide efficient and smooth voice control, and overall user experience. Having Alexa as the voice assistant is definitely a high-end addition to this already efficient and super-reliable unit.
Recommendation
This versatile unit is manufactured by a trusted, well-reputed brand in the market that makes it a good choice for all types of users. If you are a first-timer buyer and reluctant to buy from an unknown company, this unit should solve that problem for you. Its easy-to-use features make it great for beginners or first-time users  as well as more experienced users, since it's so versatile. 
However, due to its high price tag, not everyone will  be able to afford it. You won't have to buy the connecting cables such as USB and AUX cables separately: high-quality cables come with the purchase of this unit, ensuring great value for your money. The included high-quality cables guarantee good sound quality.
Features
The Boss Audio Systems Elite BE7ACP is the perfect car stereo system for those who want the best of both worlds. It comes with both Apple CarPlay and Android Auto, so you can access all your favorite icons and features on your iPhone by activating Siri voice controls, or via the Capacitive touchscreen. You can also use Android Auto just by saying "Ok Google" to talk to the Google Assistant for help throughout your day. With real-time alerts on Google Maps and Waze, you'll never have to worry about being late again. And with Siri on your side, you can ask her to read you your messages, reply as well as send them.
The unit is has smooth and fast voice control navigation. This is beneficial for those who have to receive calls and manage their messages while driving, ensuring combined safety and efficiency. 
Recommendation
The Boss Audio Systems Elite BE7ACP will turn up the volume on your ride.
This product offers great sound at an unbeatable price, and installation is a breeze – perfect for anyone looking to get the most out of their audio experience. Plus, with a 3-year warranty, you can be sure that you're making a smart investment. Give your music the treatment it deserves with BOSS Audio Systems Elite BE7ACP.
It's highly recommended to those that don't want to pay $500 or more, and want something cheap but efficient. It has a relatively big screen and a versatile range of audio and music modes and compatibility.
Features
The Alpine double din unit features a display of 7 inches, which is a size bigger than you can find on an average unit in the market. The 7-inch display is not the only notable feature of this din, since it also has incredibly versatile compatibility with both Android Auto and Apple CarPlay. Additionally, the din has Bluetooth connectivity, allowing you to use it wirelessly and ensuring that your vehicle stays technologically up to date. 
Furthermore, you get a smooth touch panel that is easy to use and also highly responsive. What makes this unit's touch panel so notable is that it is particularly designed to be fast, responsive and smooth compared to other units which have a slow, laggy touch panel. You can also make use of the voice control feature with its Bluetooth connectivity capability.
Recommendation
If you wish to use applications and music platforms such as Spotify, then this unit is fully equipped for that. With such applications, you can run the great quality music in your vehicle and have the best audio experience too.
If you have an iPad, an iPhone, or an iPod, you can use the CarPlay feature wirelessly in this unit. However, if you wish to use your Android phone, you will need to use it with a USB port.
Features
The unit has a display resolution of 800 by 400, allowing you to enjoy your favorite music videos while also having the best sound quality experience. The 24-bit true color panel further lets you fully customize the display, along with a Spotify-enabled application system to get your hands on the best music. The licensed music and the great sound quality will definitely enhance your experience.  The din lets you add effects and transitions to the music too, thereby further enhancing the sound experience.
The unit is backed by a range of user feedback that suggests the din has smooth and fast voice control navigation. This is beneficial for those who have to receive calls and manage their messages while driving, ensuring combined safety and efficiency.  Interestingly, the unit also has multi-language capability. Go hands-free on your calls by connecting to this unit via Bluetooth. An exclusive feature is connecting multiple devices simultaneously.  Along with this, you also get a USB port, an AUX port, and a composite video input too!
Recommendation
If you own two mobile devices or frequently travel with someone who needs to connect their phone, then this Pioneer double din unit is for you. The dual phone connection makes it hugely convenient for business people, or those who have both a personal and an office cellphone. It's highly recommended to those that don't want to pay $500 or more, and want something cheap but efficient. It has a relatively big screen and a versatile range of audio and music modes and compatibility. The dual-device feature makes it suitable for family cars. It's a highly recommended product with its exceptional features.
Features
With sound quality, visual experience matters a lot. Therefore, this double din system stands out in the market with its large 7-inch touch screen. The pre-existing maps make it competitive in the market since you would no longer need third-party application integration for navigation. It also has a weather widget feature, so you can always use this to see  up-to-date weather forecasts. 
The system is fully compatible with both Android and Apple devices. In addition, it has the option to add both front and rear cameras. With its built-in Bluetooth, efficient map, and smooth 7-inch touch display, this system is worth the money.
Recommendation
While the Pioneer unit is one of the best in the market, it might not be affordable for everyone. It comes with a heavy price tag, but it won't disappoint anyone who owns an Android or Apple device. With its variety of versatile variety of features, the experience might just be worth the money.
Features
This Sony double din unit qualifies as one of the best in terms of user-friendliness and effortless usability. The best part about the 6.7 inche screen is its responsiveness. It wakes up faster than earlier models. This means faster access to maps and songs, and greater control over your sound quality. The system has a built-in voice control feature that allows easy and smooth navigation, making your driving experience smart and efficient. You won't need to depend on your smartphone's voice control feature like you do with other dins. Instead, the unit has its own independent voice navigation!
The din's front panel has a USB port that you can use for charging your devices. The position of the port is user-friendly for the driver, the passenger and the people in the backseat too. The audio navigation feature makes this the best in terms of usability and user-friendliness.
The volume control, on/off, and audio setting functionality can be all done with the easy-to-use dial that is smooth and efficient, and is positioned in an easily accessible place so the driver doesn't need to take their attention away from the road.
Recommendation
This is a top-notch double din unit with a range of extraordinary features and functions that offer great efficiency and flexibility to the user, such as the built-in audio and voice-control navigation. It's a highly recommended product for Apple users, since it runs the most smoothly on iOS devices. It's great for people who take lots of calls and messages, because the built-in voice control ensures safety and efficiency.
If your vehicle has a rear camera installed, then this unit will quickly adapt to it. It comes from a reliable manufacturer and a world-renowned brand, but comes with an affordable price tag which qualifies it as one of the best double din units available today.
Features
The Sony system stands out in the market as the best for sound quality  with Android devices. With Apple CarPlay, you can access your messages, maps, music, and manage your calls. Meanwhile, with Android Auto, the unit allows you full access to maps, music, and your phone book as well. In addition, the system has a large 7-inch touch display which has a range of features and sound settings that are fully customizable in order to enhance the sound quality in your vehicle. For an even better experience, you can play high quality downloaded songs from your USB through the 2 ports of the din. The dual USB port feature is also meant to simultaneously charge and connect to 2 devices.
Recommendation
This system is a great choice for those who wish to customize the sound quality and audio experience in their car. It provides great customization, with easy-to-use controls and buttons right on the front for easy access. In addition, the unit delivers a great visual experience with its large 7-inch display and impressive dual USB ports that can be used to charge 2 devices at the same time.
Investing in a double din head unit is a decision not to be taken lightly. You need to put in some thought so that your money and time don't go to waste. A unit that not only fits your budget, but also has a long life, and reliable performance is important. To help you pick the best, most suitable unit for you, we've listed some important factors to consider before you buy. Whichever product you choose, consider the following factors:
Whether you're a pro or a beginner, the unit should be easy to use. Whether you're driving or in the passenger seat, you cannot keep all your attention on the din. Therefore, make sure you buy a unit that has user-friendly features that do not require lots of focus and attention. Most importantly, check how easy and quick the unit is to install and setup. If it's difficult to install or setup, you might need professional help, and that can lead to extra costs.
Make sure that the unit you are buying is compatible with the smartphone device you use. It's better to go for a din that has both Apple and Android compatibility so you can use the unit with your future mobile phones, and also allow other and people in the car to use it.
Display quality can refer to multiple things. Firstly, make sure that if the unit has a touchscreen display, the touch is responsive. You will find loads of units in the market that have an unresponsive, slow, and lagging touch capability. In addition, you should also check the resolution of the display. This is vital, especially if you're looking for a unit that provides not only good sound quality but also has nice visuals to watch music videos. Display size is another important consideration.
Summing up, we can say that the most important things to look for in a double din head unit are sound quality, its ease of use, and the range of features it offers. You'll find a diverse range of products that vary in price, but in the end, the features are all that matter. Always look for a unit that is backed by positive customer reviews and has a reliable warranty. Features such as compatibility with music applications and multiple music platforms can allow you to have the best sound experience. Moreover, as well as sound quality, look for the best screen resolution so that the visual experience is just as good.