We've reviewed more than 20 equalizer models from the best brands to help you discover which is the best Car Equalizer for your own personal needs.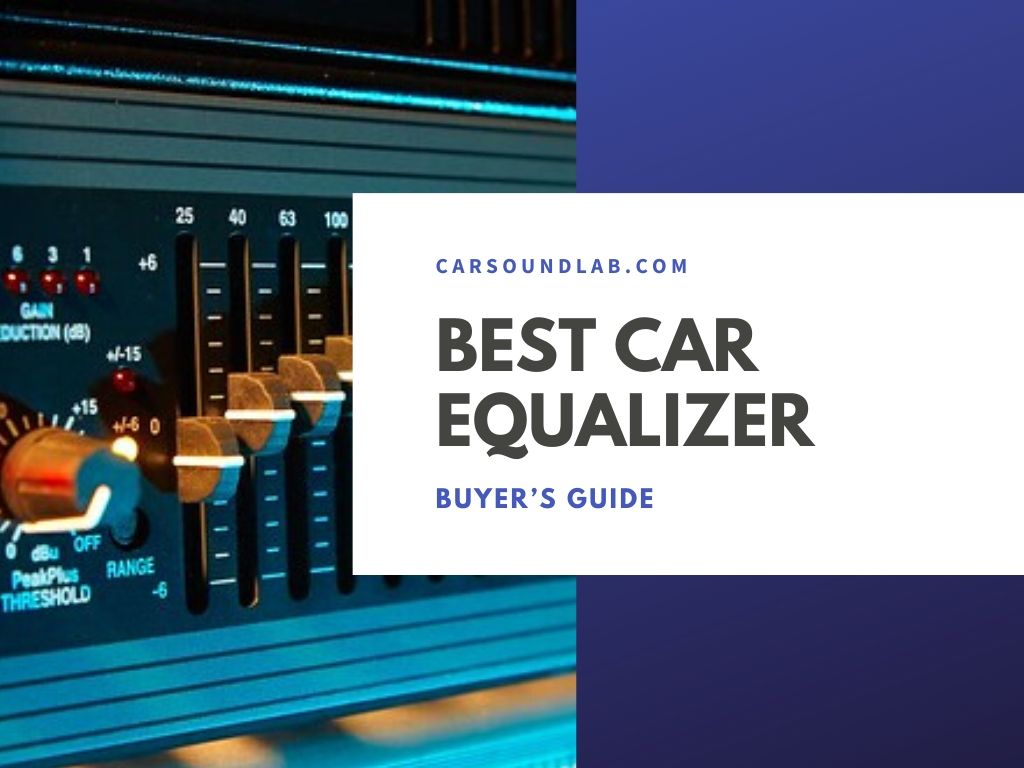 Music is important, especially when you have to drive long distances. It can motivate you to keep going and make your journeys more fun. Most modern cars come with a built-in sound system but it's usually not enough. You yearn for a high-quality system that produces excellent sound. This is why it may be a good idea to go for an upgrade.
Aftermarket components have advanced features that allow us to enjoy an enhanced sound quality of our favorite music. This difference is primarily due to the higher quality materials used to make each component of the audio system.
Without much ado, let's have a look at the best car audio equalizers:
Best Choice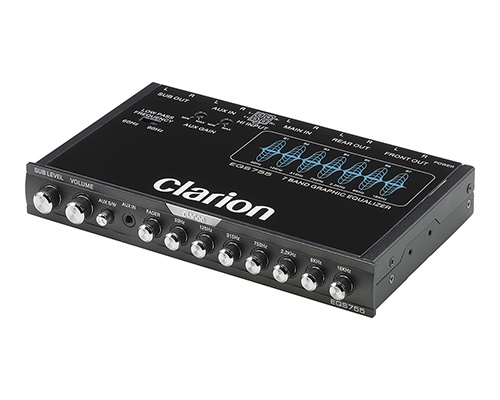 Clarion EQS755 Car Equalizer
Best All-Round Graphic Equalizer
The Clarion equalizer is easy to install and gives you control of the audio spectrum that allows you to get the most out of your car's sound system. You can also adjust the sound output to suit your musical taste.
Read Verified Customer Reviews
For those who enjoy quality music during a drive, you know that upgrading your car stereo and speakers is not enough. A car equalizer allows you to tailor the sound to what you like for that perfect audio experience.
The function of a car equalizer is to adjust audio input signals to achieve optimal sound quality. There are varying types of equalizers depending on the number of audio bands each change.
The more the controls the more detailed your audio customization will be. If you're a person fed up with a low-quality audio player, then a car equalizer may be just what you need.
The market is full of audio equalizers, which can make it difficult to pick the right one. However, worry not, we have selected some of the best car audio equalizers for you to choose from
Title
Best Product
Clarion EQS755 7-Band Car Audio Graphic...
Editor's Choice
Massive Audio EQ7X Car Equalizer with 7...
db Drive E7 EQ7 7-Band Equalizer
DS18 DS-KEQ5 DS18 Five Band Graphic...
Sound Storm Laboratories S4EQ 4 Band Pre...
Image
Best Product
Title
Clarion EQS755 7-Band Car Audio Graphic...
Image
Editor's Choice
Title
Massive Audio EQ7X Car Equalizer with 7...
Image
Title
db Drive E7 EQ7 7-Band Equalizer
Image
Title
DS18 DS-KEQ5 DS18 Five Band Graphic...
Image
Title
Sound Storm Laboratories S4EQ 4 Band Pre...
Image
This graphic equalizer is a ½ Din Chassis. It has an inbuilt 12dB low-pass filter with six channels operating at 60Hz or 90Hz adjusted by fader control. The front, rear, and subwoofer speaker RCA outputs are powered at 8-volts. The EQ has seven frequency bands: 750 Hz, 315 Hz, 125 Hz, 50Hz, 2.2 KHz, 16 KHz and 6 KHz.
The
Clarion
equalizer is easy to install and gives you control of the audio spectrum that allows you to get the most out of your car's sound system. You can also adjust the sound output to suit your musical taste.
Clarion EQS755 Car Equalizer can be a good pick for users looking for a high-quality product. It's expensive but worth the price.
The nine band graphic equalizer has adjustable master volume levels, subwoofer level, Gain, two-channel RCA input for an aux, 8V line driver and ½ DIN.
With this brand, you don't get background noise. It also corrects sound issues associated with a vehicle's interior.
Massive Audio EQ-9 can be a good pick for users who have to drive through noisy areas. Its ability to reduce background noise is a great plus.
This parametric car equalizer has seven bands with an inbuilt subwoofer X-over. It has three stereo RCA outputs and an 8-volt volume gain. You also get an MP3 input on the front panel and a different subwoofer output control.
With this EQ you can control the level of the boost and also center frequency as well as adjust the bandwidth to suit your musical needs
db Drive E7 EQ7 can be an excellent pick for users who want a good looking unit for their vehicle. It will improve sound quality but there is a learning curve involved in using the system.
This unit is different from others on the list as it is a combination of an equalizer and a crossover. This 5-band stereo is parametric with 12 dB and four separate channel control.
The gain equalizer has adjustable input sensitivity. The master volume goes up to seven volts RMS output. You also have left and right different commands for the same.
It also has subwoofer level control and frequency adjustment. The RCA input/output connectors are gold plated. Plus, there's an input CD/radio select switch.
The crossover gives you the option of selecting the highs, mids, and lows, that is, the tweeters, midranges or subwoofer. If you prefer, you can also still maintain the general sound of your system.
DS18 DS-KEQ5 can be a good pick for users who want more than just an equalizer as it also packs in a crossover.
This one offers a master volume control, subwoofer filter and level control, and fader control. It has an input selector, two sources input, and front, rear, and subwoofer, and gold-plated outputs.
The pre-amp output is 7 V. The EQ band frequencies are 150 Hz, 20 kHz, 1 kHz and 40 Hz. There's also a boost/cut at center frequencies.
While it is great product, it may not be suitable for everyone since it does not fit all vehicles.
Sound Storm S4EQ can be a good pick for users looking for peace of mind. This one comes with a 1-year warranty that is quite easy to avail but you (hopefully) will not have much of a problem since it is quite reliable.
This is a parametric equalizer with a high-fidelity preamplifier/signal processor which allows you to control the sound system without any trouble.
It has low-level front, rear, and subwoofer output through the RCA connectors. There's also a sub-channel EQ crossover range and has low levels of white noise.
With this EQ, you are likely to experience the low power and depending on your car's system and use, it may get faulty after a few months.
Planet Audio PEQ15 may not be the best product on this list but can be good for people looking for an equalizer that comes with a warranty as the company offers a 12-month limited warranty.
The BOSS Audio has seven adjustable equalizer band frequencies at the front and rear. There are also a switchable subwoofer filter and front, rear and sub outputs.
It also has a dual two-channel source and fader control. The volume control has an output of up to 8 V RMS. You can also control the sub outputs using level controls.
Moreover, there's an input selector for CD or AUX. This is a great plus as it allows you to enjoy good sound no matter how you play the music. The RCA input/output connectors are gold-plated.
This EQ has low white noise levels for minimum noise distortion. It also uses the universal half-DIN chassis to give you the ease when installing.
BOSS Audio AVA1210 can be a good pick for users who want to enjoy a good experience. With just 0.05% of harmonic distortion, it will allow you to enjoy music just like you want it. Plus, it also comes with a 12-month warranty.
This EQ has a bipolar switching power supply and two balanced and gains RCA inputs. There are also front, rear, and subwoofer RCA outputs. The device has seven frequency bands and independent sub control and a selectable low-pass filter. It has fade control and an input selector switch as well.
While it is a great product, beware that the bolts that come with the installation kit do not work for some factory head units. The knobs also tend to get gritty over prolonged use.
Soundstream MPQ-7B looks good and has some amazing features but it may not be suitable for all systems as some users complain of a buzzing sound.
This EQ offers you two selectable balanced inputs and a front panel aux input. It is a four-band parametric equalizer with independent fader, volume and subwoofer output control. There's also an isolated PWM power supply and a variable sub low-pass crossover. You get a maximum of 7 V for the front, rear and sub outputs.
The sound quality is boosted, so the lows, mids, and highs of your music are sharp and clear.
Power Acoustik PWM is among the best options out there. It offers some great features and is also pretty fun and easy to use. Moreover, it comes with a warranty.
This equalizer comes with a maximum output of 7V. It is a graphic EQ with a subwoofer equalizer.
The EQ makes mid subwoofers work better. If you have fundamental car audio installation skills, then this one will be easy for you to install.
GRAVITY 7 Band Graphic Equalizer can be a good pick for users who want a unit that is easy to install. However, it may not be the most durable option out there.
Best Car Equalizer - Buyer's Guide
When purchasing a car equalizer, also referred to as EQ, you want something that gives you value for the amount you've paid and what you're getting out of it. It's an especially vital feature to have during a long drive as it could improve performance.
There are many reasons that your original car stereo is not meeting your needs. The sound could be affected by glass reflectivity, absorbent nature of your car seats, the engine, the road you're on, the shape and size of your vehicle's interior as well as the rushing wind. These factors affect the sound frequencies; some will sound sharp while others muffled. With an EQ, you can balance those your car is exaggerating and those that need to be amplified.
An important thing to note is that this accessory does not make your car audio louder and also don't amplify the speakers' power. All it does is smoothen out the frequency of what's already installed in your car. You should, however, be able to note the difference immediately after installation.
There are different places you can mount a car audio equalizers, and you have to find one that best suits your car system. There's the dash-mounted EQ that can installed below or above the receiver where the location of the factory radio is. Others can are mounted below the dash using a bracket or a special kit. Truck-mounted equalizers are also available and most times work with wired remote controls. With these, anyone in the car can make adjustments from their seat.
A basic car stereo comes with treble, bass, and mid-range adjustments but an EQ offers so much more. You can increase the treble and bass and still maintain the mid-tone spectrum the same. They get mounted between the head unit and amplifier. The market nowadays offers a variety of EQs for you picking.
The analog variety uses physical sliders or dials for more precise control when trying to get your preferred frequency setting.
With a parametric EQ, you get higher sound control than conventional equalizers. They are made to allow you to control both the level of the boost, adjust the bandwidth and the center frequency. If you want a full boost or a focused one at whatever Hz you prefer, this EQ gives you the freedom to do that.
The graphic equalizer graphically displays different frequency bands individually for precise tuning. They come with some audio filters that are central to a specific frequency bandwidth of the audio spectrum. Most come with sliders where you move the control button up or down to adjust the sound. Up is increase and down is decreasing. These sliders are side-by-side; the frequency units are so that the highest is on the right and the lowest on the left. This way, they appear to follow the graphical curve you see displayed on the unit.
An EQ booster has both an equalizer and an amplifier. They are not as powerful as external amplifiers but work well if you don't want to invest in a separate amp to go with your equalizer. They do however still give you precise control and are a good bargain both regarding price and the sound that comes with having an amp.
The digital EQ allows you to make adjustments using a menu screen. It gives you more precision and flexibility than analog equalizers. They store several EQ settings, making them more convenient than its counterparts in the market especially if you're listening to a wide range of music.
These two devices tweak the system's frequency response, and it's the reason some people confuse the two. What a crossover does is that it limits the range of frequencies that get sent to an amplifier or speaker. The highs go to the tweeters, the mids to the midranges and lows to the subwoofers. The EQ, however, gives you control over the general sound of your system.
Equalizer vs. Digital Sound Processor
Before heading out to get an equalizer, it's important to understand the difference between these two gadgets.
What makes digital signal processors different from EQs is that they are a combination of equalizers and active crossovers. It means that they allow you to play audio traffic cop; you're at liberty to direct the appropriate frequencies to the subwoofer, speakers, and tweeters. They also store your settings.
If you have a problem with OEM head unit, digital signal processors can efficiently fix it. For the most part, OEM stereos act to compensate the low-quality speakers that come with the car. It does so by manipulating the frequency profile. Upon changing the factory speakers with aftermarket ones, this manipulation will be easy to pick up.
The digital signal processor is installed between the head unit and the amp and undoes the factory's EQ curves. Some add time alignment or time delay. If you want the best of both worlds, you can get a high-end EQ that comes with an inbuilt digital signal processor.
Choosing the Best Car Equalizer
Some of the features to look for include
High-pass filters
subwoofer output
Front-to-rear faders
Depending on your taste, you can select between parametric and graphics or digital and analog
For installation, you will require screwdrivers, screws, a wire crimper, a wire stripper, electrical tape and an amp kit with power or ground wires, RCA cables, remote lead, and terminals. Depending on the devices, you might need a socket wrench set, a drill, wire ties or a soldering iron.
Find out if your EQ should be mounted above or below the head unit or the dash. If you have a remote mount equalizer, it is to be installed in the truck or between the head unit and amp. The rule of thumb is to place it where you can make easy sound adjustments.
Install your EQ using a screwdriver and screws. Depending on the road you'll be using, you might need to create a platform for the equalizer. If you mount it directly to the vehicle's steel surface, you might end up getting distorted sound on uneven roads. In this case, with a platform, the rattling of the car will not affect the performance of the audio unit.
For an in-dash EQ, you may require some custom modifications. You can either mount it above or below the head unit. In this position, it should be secure and quite accessible. You can also go an extra mile and attach a mounting kit below your dash and then attach your EQ there. At the end of the day, where you mount the equalizer is dependent on the space available in your dash and the modifications you are willing to make to accommodate it.
Equalizer Wiring Configuration
To generate 12-volt power, the EQ needs connecting to the fuse panel. To begin, strip one end of your 16 gauge wire and attach it to the power unit. Next, run the same wire to the fuse panel and connect it with a fuse tap to the aforementioned 12-volt power source. Depending on our head unit, you may be required to remove a screw or bolt near the EQ or add one by drilling a hole, if you want a good connection. Using the crimper, crimp a ring terminal at the end of the wire. Once you do this, fasten the bolt/screw you removed back into the hole.
To generate a turn-on signal, you're required to remove the head unit from the dash. Pick the turn-on wire (it's usually blue), and strip out a small piece at the end. Take another wire and strip off the end; make sure it can stretch from the EQ to the head unit. Connect the two bare ends of the wires using the crimper or solder. After, use electrical tape to wrap the exposed part of the now one piece of wire. It is to prevent an electrical short.
Once done, take the wire and fasten it with wire ties to your EQ.
To establish a signal connection, connect RCA cables to the head unit's preamp outputs. To prevent separation, you need to tape them together. Take the RCA cables and run them through the dash and connect them to your EQ inputs. Connect the EQ to the amplifier using additional RCA cables- one cable per amp. What you should finally have at the end is RCA cables running from the amp's outputs to the EQ's inputs. However, do not run these cables alongside the amp power cords as it'll cause sound distortion.
Turn on the EQ and check to confirm that it's functioning. Once done and everything works well, place back your head unit. You are now ready to enjoy your music in another dimension.
For both ordinary car owners and music lovers, great music makes the difference, for the most part, between a monotonous drive and a fun one.
If you're a car owner and not sure what equalizer to go for to make your musical experience much better than what your car factory installation has to offer, we hope this guide has shed light on what to look for in a good EQ.
Make sure to pick an option that suits you the best by keeping the factors highlighted above. While all the products are great, out favorite would be Clarion EQS755 Car Equalizer. It is the best equalizer out there but might be a bit too expensive for some users.